Seattle "City Experience" Boundary Revealed | 5 Best Places to Play GO Fest Seattle! | Pokémon GO Fest Guide | PGO Fest 2022
Alfindeol & GO Stadium
1 year ago
Niantic has revealed the rough borders for GO Fest Seattle's "City" Experience and we are happy to report that you will be able to play the City portion of GO Fest anywhere in Seattle & the border will extend from Tacoma to Everett. The outer edges of the geofence are subject to change & is a rough approximation, so we do suggest staying within Seattle to play both just in case they shrink and to make sure you do not lose any valuable playing time assosciated with travel.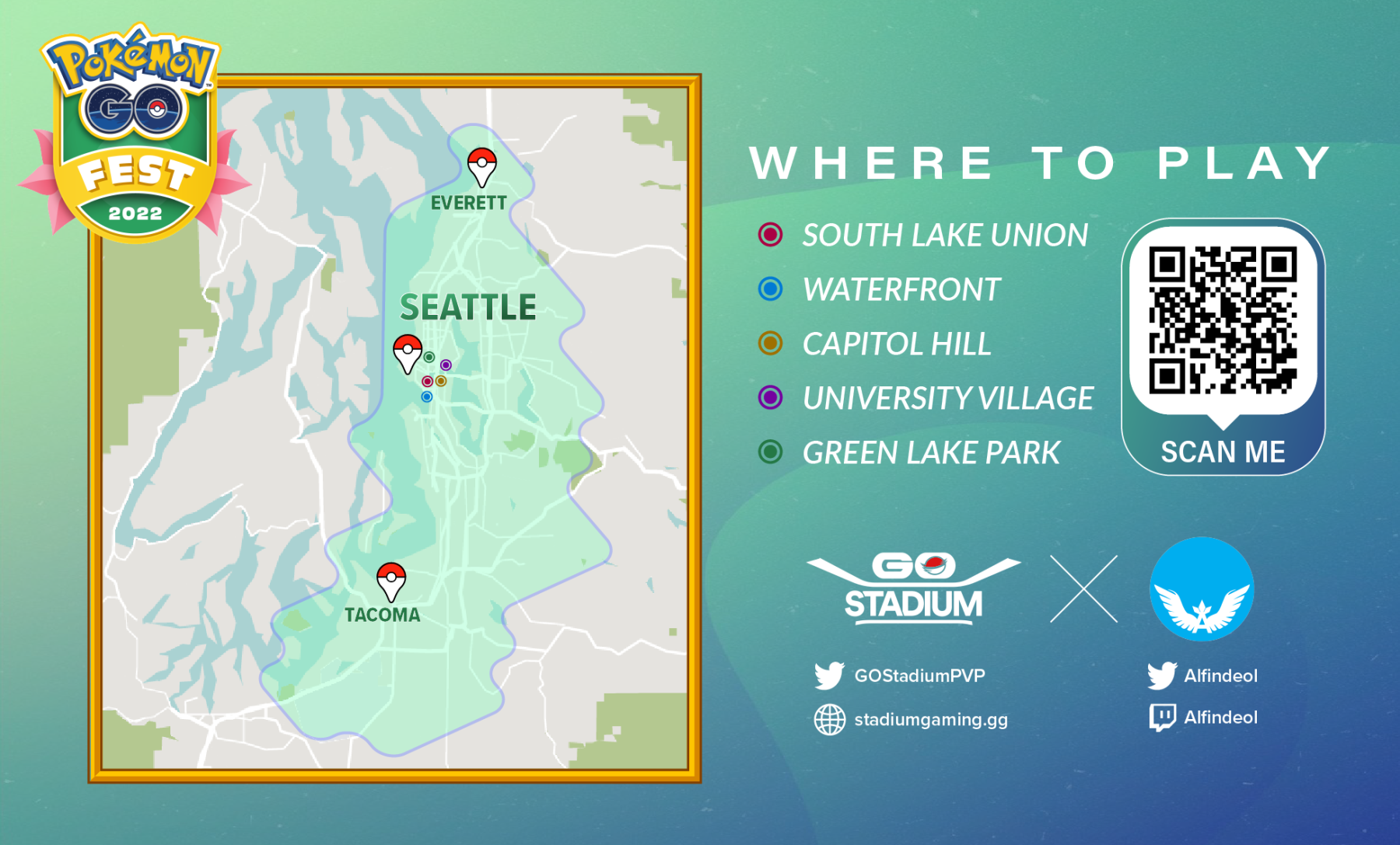 We have teamed up with Alfindeol to bring you the Top Five locations to play GO Fest Seattle during your City Hours. Before we begin, we want to caveat this with something simple. If you opt to simply wander away from the park south into Downtown Seattle, I expect you'll have a reasonably good play experience. The downtown area has good stop and gym density and I expect a lot of players will simply continue to play near to Seattle Center for convenience reasons.
Check out the video below from Alfindeol, and if any of these locations interest you, they are all listed as pins on this shareable Google Map (click the link or scan the QR code on the graphic above)
South Lake Union
Located a short walk East of Seattle center, the neighborhood of South Lake Union is a very easy choice for an optimal place to spend your city experience.
The park space located directly along the Lake Union shore line and around the Museum of History and Industry is a lovely area to explore and as you move south there are a number of places to eat and drink in and around Westlake avenue. An easy lunch time recommendation is Hurry Curry of Tokyo for a great steaming hot plate of Japanese style Curry at Katsu.
Seattle Waterfront
Walking west from Seattle Center until you hit the water and Centennial Park, you can then trail along the Puget Sound coastline and down Alaskan way.
The area is great for natural spawns and offers fantastic views of the water and the Olympic Mountains across the way on a sunny day. There are some stretches that are a little light on spawns, but the areas around the Seattle Aquarium and the developed waterfront remain some of the best places for spawns in the city.
One catch, some of those areas are in the midst of some pretty significant development and may be inaccessible due to construction. Lunch time recommendation?
Visit the Ivar's Acre's of Clams on Pier 54 for a classic quick service meal of fried clams or fish.
Capitol Hill
Accessible with a quick, direct bus ride, Capitol Hill is Seattle's social hub and will offer some of the best post-event options for eating and drinking in the area!
If you make it up the hill, the best areas to play are in and around the campus of Seattle University as well as along Broadway Avenue.
For lunch, a quick stop at Hot Mama's Pizza (try their Pesto Slice) or Carmelo's Tacos (who have two locations on the Hill) are both hard to beat.
Locals may be wondering why I haven't mentioned the Pike/Pine area of Capitol Hill and that's because this recommendation comes with quite a large caveat.
GO Fest takes place the same weekend as Capitol Hill Block Party, a three day music festival that shuts down about 3 square blocks of the neighborhood.
The area will be quite lively and busy although MOST of the action will be locked away inside that gated area.
Green Lake Park
The trek is fairly ambitious unless you have a vehicle of your own, but you can still reach Green Lake in about a 30 minute direct bus trip if you're feeling ambitious
Green Lake Park consists of about a mile long trail looping along the lake and is very well populated with stops, spawns and gyms.
It's frequently one of the top places in the city to play for large events and it is absolutely lovely to spend a few hours in.
For eats, it would be impossible not to recommend Beth's Cafe, one of Seattle's most legendary greasy spoon diners serving all kinds of classic american diner fare.
University of Washington Campus & U Village
U Village is an upscale shopping center near to the campus, but it's absolutely THICK with stops and spawns and is, likely, one of the best places in the city to play.
The campus itself is also beautiful and the area along University Ave offers a ton of awesome bars and restaurants to check out.
The Village is also well equipped for food and drink from some Seattle institutions. I'd suggest grabbing a Hawaiian Fried chicken sandwich from Ma'Ono inside
the Rachel's Ginger Beer location there for lunch. If you get to the University District proper, or opt to play there as it's more accessible via Light Rail, I absolutely LOVE Thai Tom for lunch, but be aware it's small and cash only!
Downsides, other than how far away it is, are simple. You'd be playing in an outdoor shopping center which is of dubious joy.